---
Raspberry Candy Daylily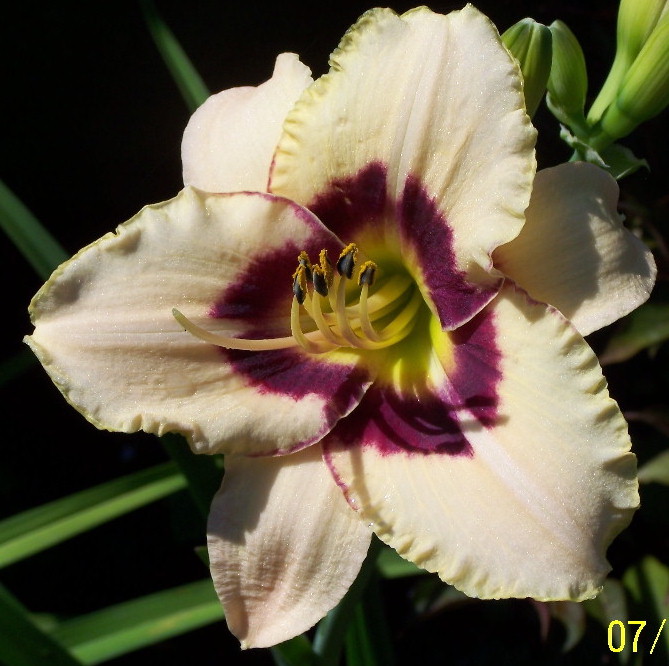 Hemerocallis 'Raspberry Candy'
24" high
Flowers about 4 1/2" wide
Full sun/part shade
Cream color with raspberry center and a green throat.
---
Pardon Me daylily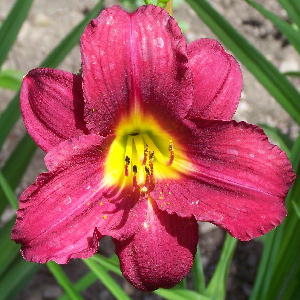 Hemerocallis 'Pardon Me'
18" high
Flowers about 3" wide
Full sun/part shade
Cranberry red with yellow-green throat.
---
Happy Returns Daylily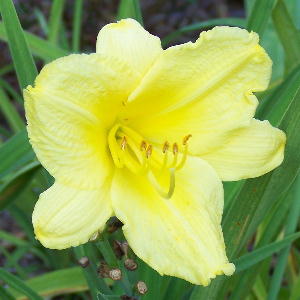 Hemerocallis 'Happy Returns'
18" high
Flowers about 3 1/2" wide
Full sun/part shade
Lemon-yellow, ruffled flowers that repeat bloom.
---
Stella de Oro Daylily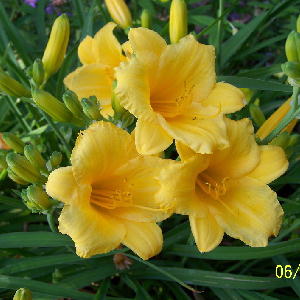 Hemerolcallis 'Stella de Oro'
12" high
Flowers about 2 1/2" wide
Sun/part shade
Small clump with lots of yellow-orange blooms.
---
Daylilies are probably one of the most popular perennial flowers. They come in a wide variety of heights, from short ones about a foot tall, to ones that are over 2 feet tall. They come in just about all colors and most are a combination of colors. Some have fragrant flowers for us to enjoy, while all have fragrances that attract butterflies. Any sunny location is a match for daylilies.
The flowers are most often bell shaped with large stamens that protrude from the center. The leaves are usually tall, flat and wide, making a vase-shaped clump of greenery when the flowers aren't blooming. The flowers only bloom for a day and usually will self-clean themselves, or fall off. There are many blooms per plant so the flowering can last for days. Some varieties will even get more blooms later in the season and put on the colorful display again. Each year the clump will increase in size, sending up more and more foliage and blooms to enjoy.
Quantities on some of these Daylilies are very limited.