Views of Our Yard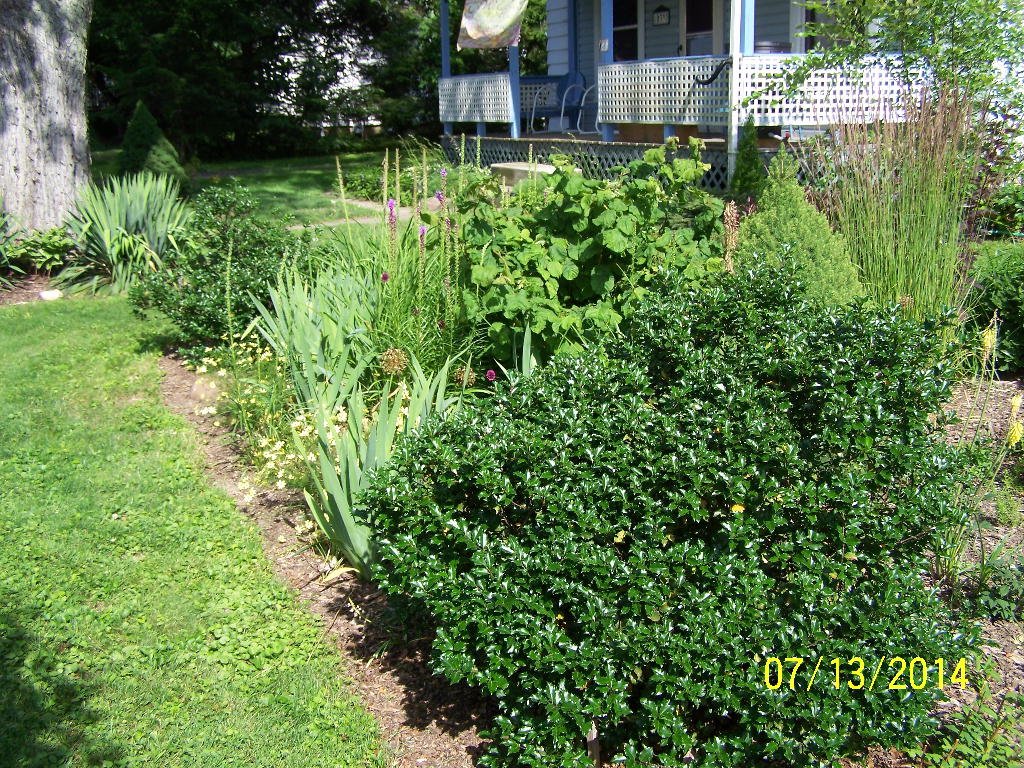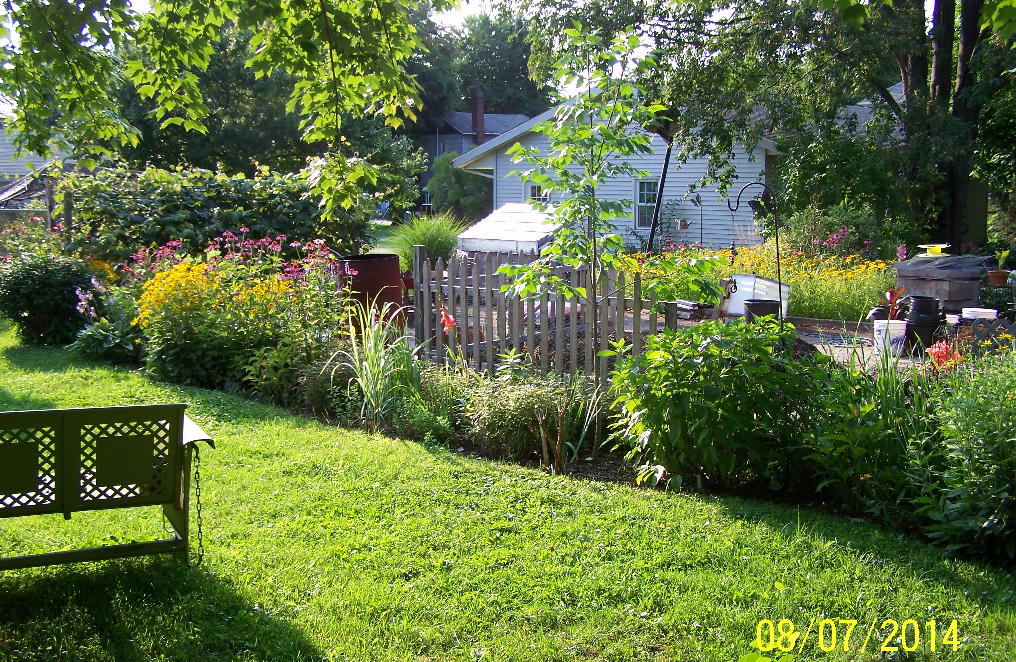 The purpose of this page is to showcase some of the areas in our yard that we have filled with the plants, shrubs and trees that we sell. There are also many other varieties of perennials and shrubs included. We have several growing beds throughout our yard, from the front, both sides of our 100 year old house, and on into the backyard.
Words in italics take you to the plant list for that particular growing bed or area. These lists seem like they are always being added to. We like to add things once in awhile.
The front yard is on the north side of our house, shaded by the house and large old maple tree. It is not an ideal place to grow most sun-loving plants, so we have some hostas and pachysandra lining the front porch area. The sun is rarely seen by these plants.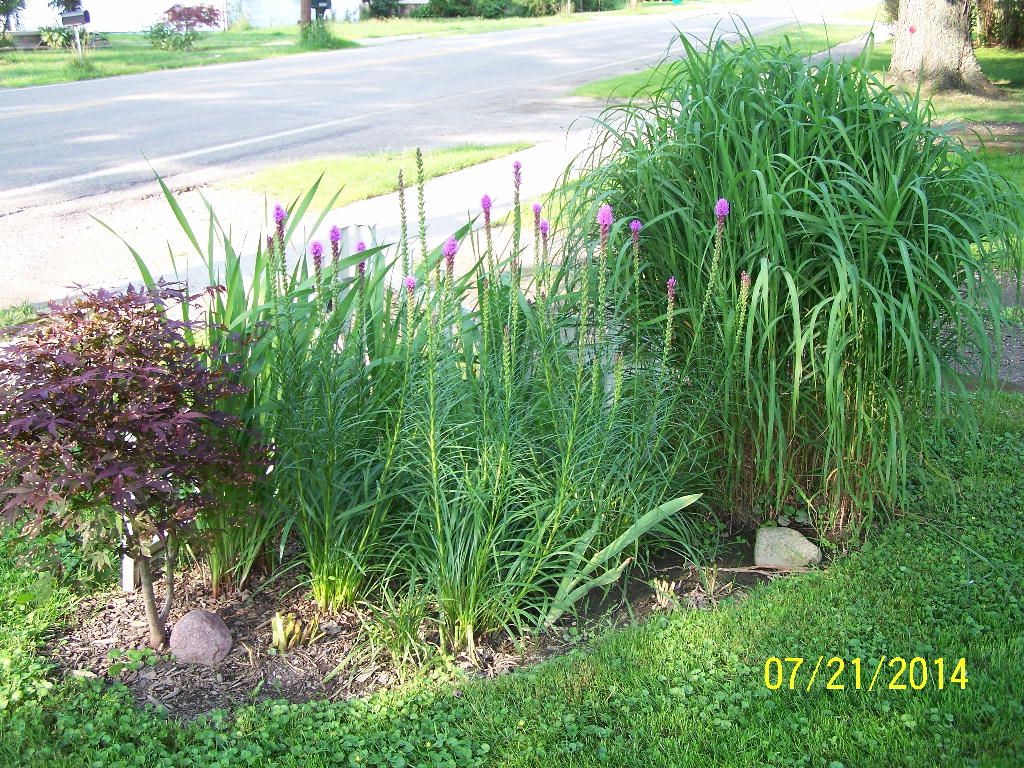 The driveway corner bed gets a peek of morning sun and some dappled shade from the maple tree. The leaves are not as thick as they used to be. It is good enough for some tulips early in the spring and irises later on. Some flowering onions (Allium 'Aflatunense'), prosper there while some bachelor buttons and Japanese Silver Grass (Miscanthus sinensis) grow through the summer. Anchoring the corner is one of our several varieties of Japanese Maples, a red seedling (Acer palmatum atropurpureum).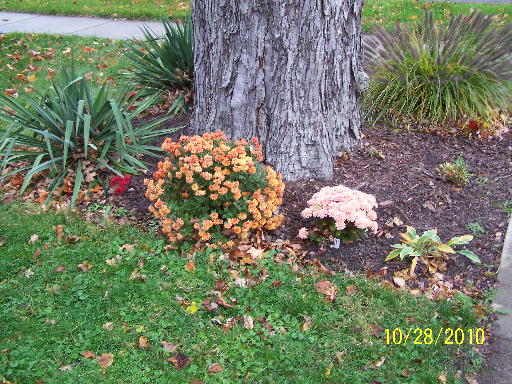 Around the base of the old maple tree, a very difficult area to grow things, we have some hostas, yuccas and perennials like dianthus varieties and sundrops. We also have some Variegated Solomon's Seal (Polygonatum odoratum 'Variegatum') that makes an appearance here. The corner of the sidewalks is anchored by some Black Flowering Fountain Grass (Pennisetum alopecuroides 'Moudry'). Areas like this are hard to grow in because a large tree has lots of roots that not only make planting difficult, but they also hog most of the water and nutrients. By planting small plants carefully amongst the roots and making sure they get watered well, you should be able to have some success in these areas. Plants that need more sun are planted on the west side where they get some afternoon sun. Most plants that don't get the ideal amount of sun will still grow in these areas. They may not grow as large or flower as much. That can also be used to control some more aggressive plants.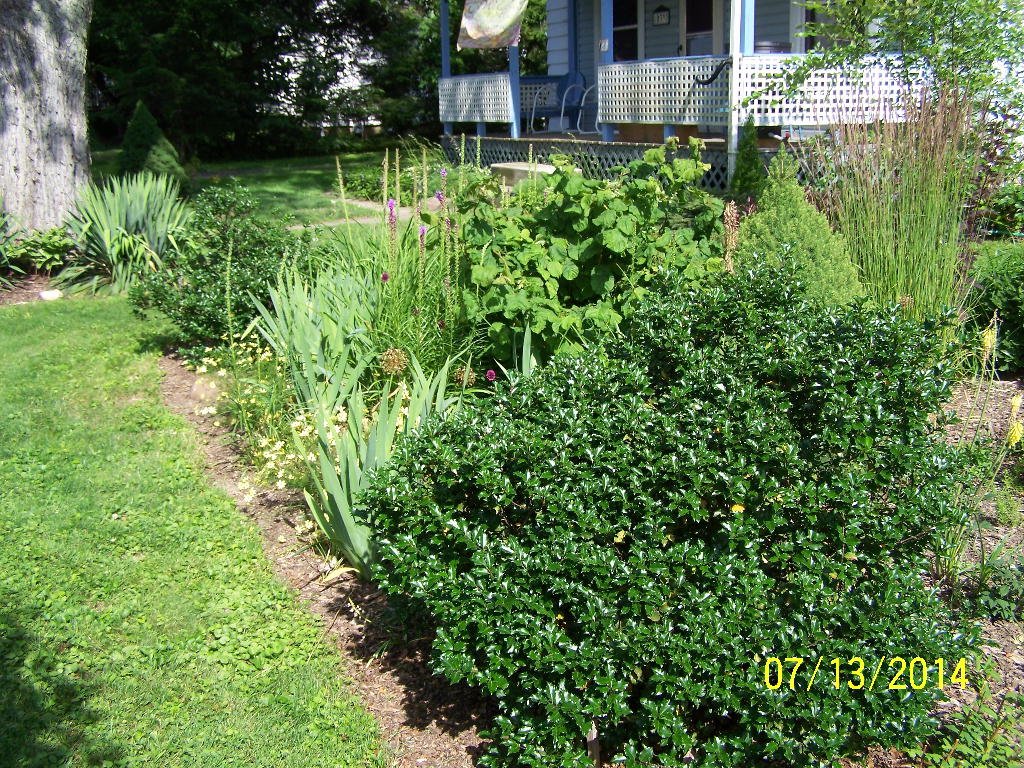 Our pair of Blue Princess Hollies (Ilex meserveae 'Blue Princess anchor the front of our large island bed. They get plenty of red berries in the fall thanks to the Blue Prince Holly (Ilex meserveae 'Blue Prince')planted nearby next to the porch.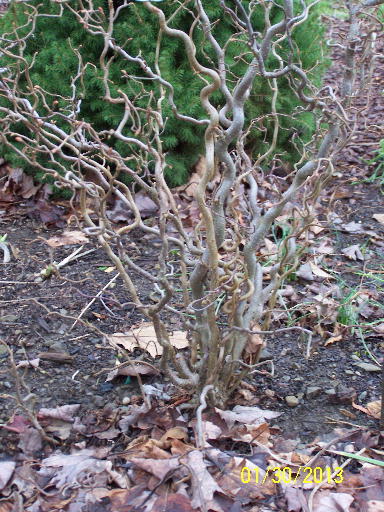 Hollies need male and female plants to produce the berries. One male plant can take care of several female shrubs. This bed is divided into 3 areas. The front has the hollies, some tulips, grape hyacinths, daffodils, torch lilies, and the centerpiece, Harry Lauder's Walking Stick (Corylus avellana 'Contorta'). This small tree or large shrub doesn't know the meaning of a straight branch. There is not an inch of straightness to it. It twists, curls and doubles back in every branch. It is plain in the summer, covered in medium green leaves, but in the winter it really shows its stuff. With no leaves, all the twists and curls clearly show. If you are looking for a unique centerpiece, this is the one. They are difficult to propagate and I don't have very many. Ask for one and you might be in luck.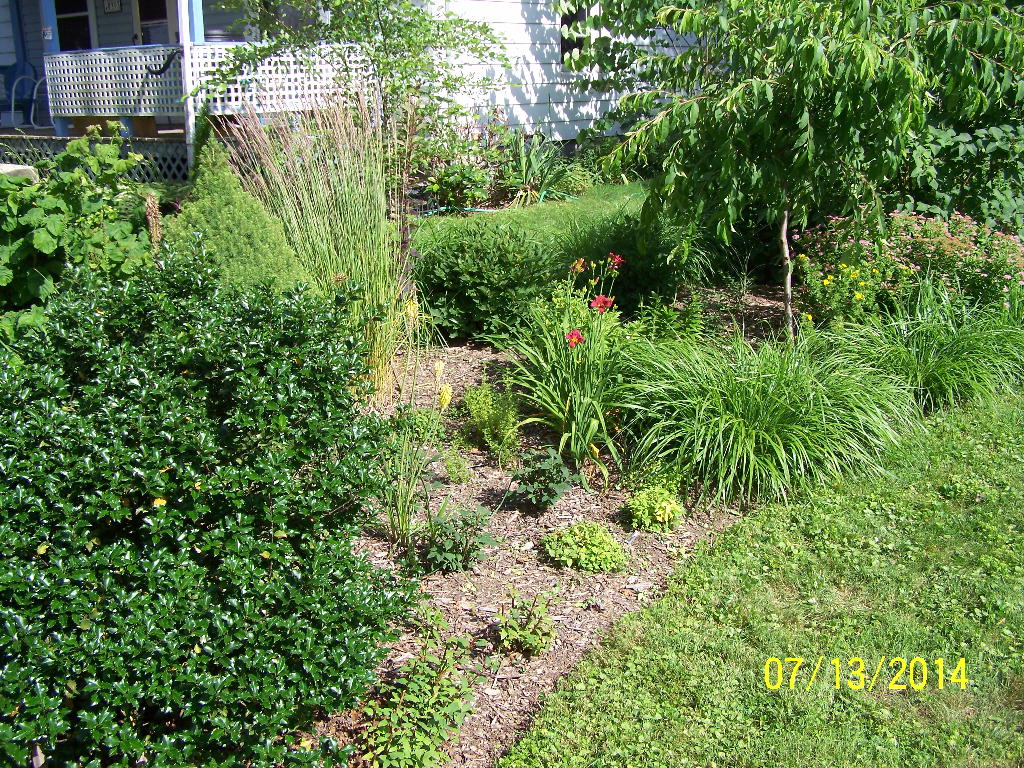 The middle section is the newest part of our island. It is mostly made up of plants that we grew as rooted cuttings and planted here to show how much they prefer being planted in the ground versus being in a pot. There are spireas, potentillas, burning bush, butterfly bushes and others. Anchoring this section is our Weeping Peach Tree. It is covered with pink/purple blossoms in mid spring and grows small peaches in the summer.They are not edible though.
The back section of the island has a purple lilac bush that fills the springtime air with fragrance. Dragon's Blood Sedum (Sedum spurium 'Dragon's Blood') is under the lilac with three varieties of garden phlox joining the growth. We have Laura (Phlox paniculata 'Laura'), David (Phlox paniculata 'David'), and Bright Eyes (Phlox paniculata 'Bright Eyes'). Angelina Sedum (Sedum repestre 'Angelina') as well as some hens and chicks can also be found here. A seedling spruce tree that was rescued from the basement wall has been made into a topiary
for decoration and also to limit its size. Several different irises and tulips also call this home. A Coral Bark Japanese Maple (Acer palmatum 'Sango-kaku') and Karl Foerster Feather Reed Grass (Calamagrostis x acutiflora 'Karl Foerster') stand out here almost year round. Two varieties of Black-Eyed Susans fill the bed from summer until fall.
Along the west side of our house is a narrow bed that contains some azaleas, viburnums, sedums, rhododendrons, daffodils, tulips, lilies and irises. Two Japanese Maples, Glowing Embers (Acer palmatum 'Glowing Embers') and Viridis (Acer palmatum dissectum 'Viridis'), call this area home. Our backyard entry arch connects this bed to our newest and largest growing area. This bed cuts across the yard and runs along the property line, ending in a round peninsula. This was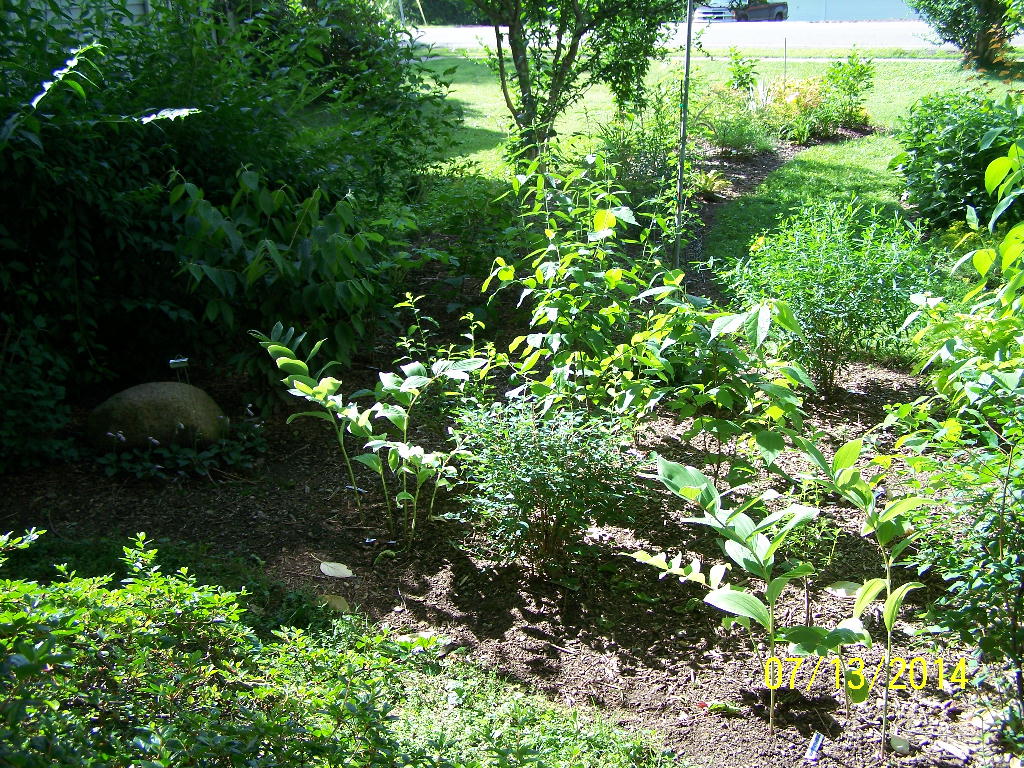 just put in last year (2013), and contains many young shrubs and trees. There are viburnums, both native and asian varieties. Young Fringetrees (Chionanthus virginicus) and Chokeberries, as well as St. John's Worts are growing here with several different hostas and ornamental grasses. Dogwoods and 3 different Japanese Maples can also be found here. The end of the peninsula is home to lilacs, spireas, daylilies and Rheingold Arborvitaes (Thuja occidentalis 'Rheingold'). Older established Rose of Sharon and forsythia act as the edging with a Zelkova tree at the point. Though young and small in size now, most of these will mature to several feet, making this a screening growth of flowering shrubs.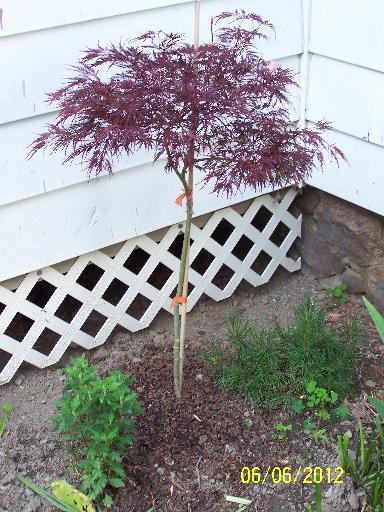 A pair of small beds nestled in the corners of the house and back porch, are home to several varieties of coral bells all summer with visits by lots of yellow daffodils and grape hyacinths in the spring. Some Trout Lilies (Erythronium 'Pagoda') and Virginia Bluebells also make an early spring appearance before fading away for the summer. Lily of the Valley (Convallaria majalis) surround the base of the maple tree that gives one of the corners shade for the coral bells.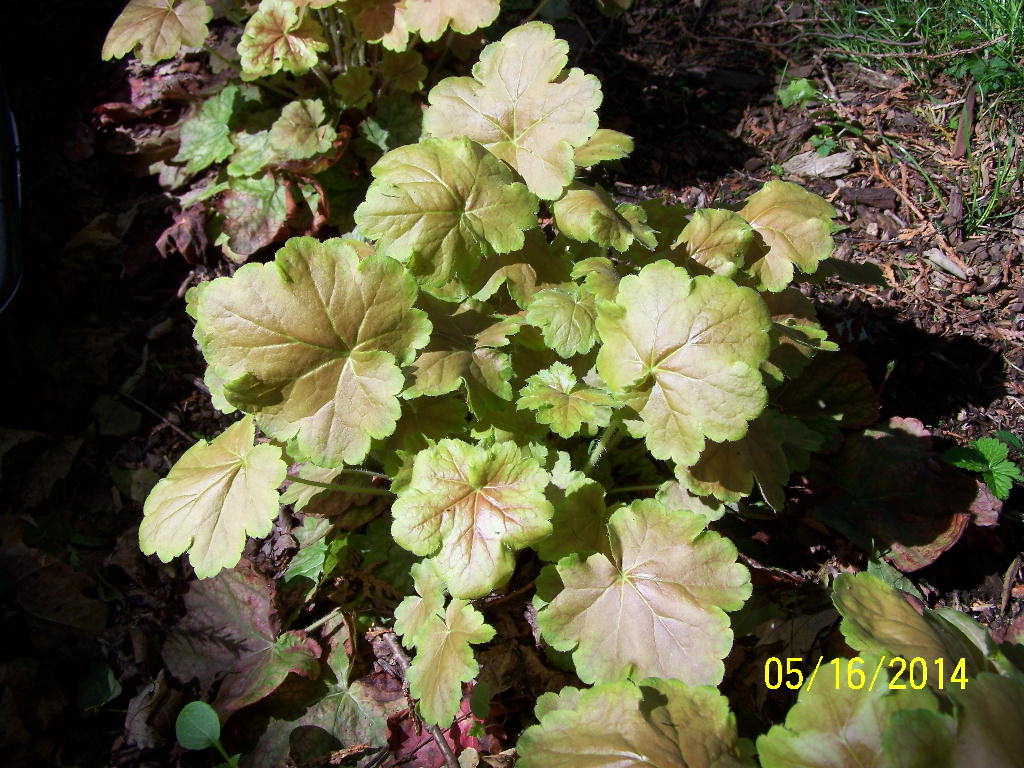 Some coral bells and hostas can be found growing around our patio area. Stairway to Heaven Jacob's Ladder (Polemonium reptans 'Stairway to Heaven' PP 15187) adds some variegation to go along with the Kousa Samaritan Dogwood (Cornus kousa chinensis 'Samaritan') and Ariadne Japanese Maple (Acer palmatum 'Ariadne'). Spring brings up the small flowering alliums in colors or white, yellow and purple. Ornamental grasses stand proud from summer through winter.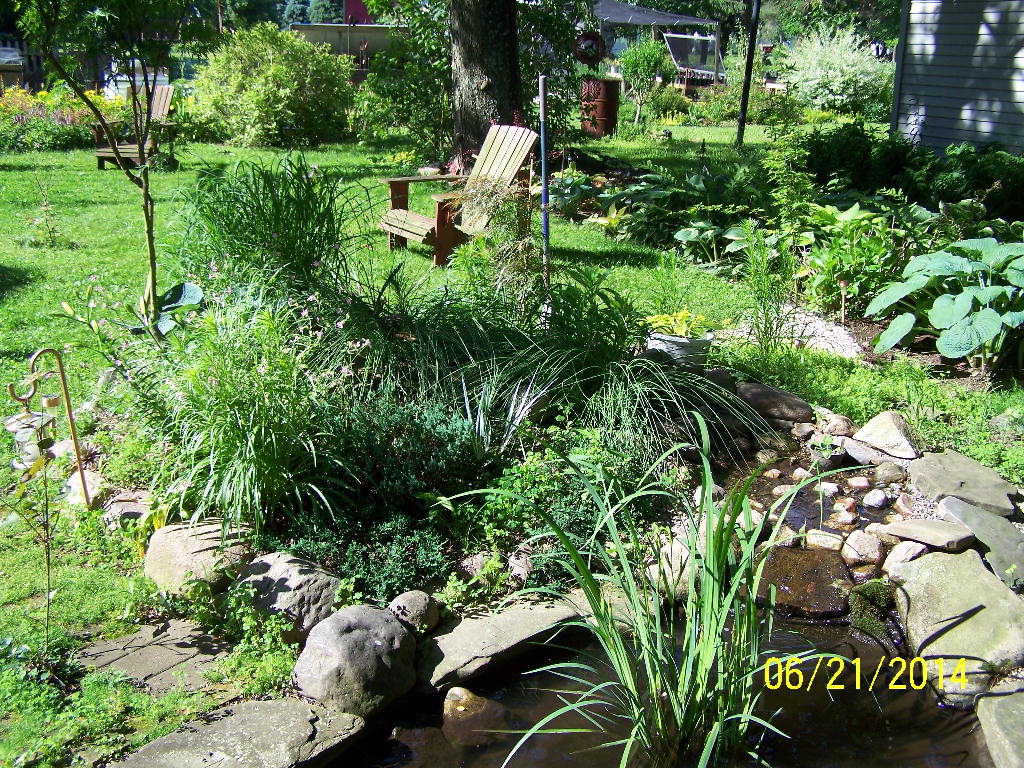 Our rock garden starts the next large area of plantings. It includes a chair for sitting and watching our most colorful pets, the goldfish. A Waterfall Japanese Maple (Acer palmatum dissectum 'Waterfall') shares the limelight with bleeding hearts and are joined by balloon flowers, coral bells and phlox. Young maples, lilacs and Black Cherry trees shade the bed. The mound above the pond serves as a bog type filter with three pools of gravel filtering the water and providing areas to grow water-loving plants like Swordleaf Rush (Juncus ensifolius 'Flying Hedgehogs'), Yellow Flag Iris (Iris pseudacorus), and Cardinal Flower (Lobelia cardinalis). The mound is also home to 2 more Japanese Maples. Orangeola (Acer palmatum 'Orangeola') and Seiryu (Acer palmatum dissectum 'Seiryu'), the only upright laceleaf variety. Many perennials and ornamental grasses are flanked with sedums. Some rose varieties grow next to the mound in our old brick garden such as Perfume Delight, Champlain Shrub, red Double Knockout and others.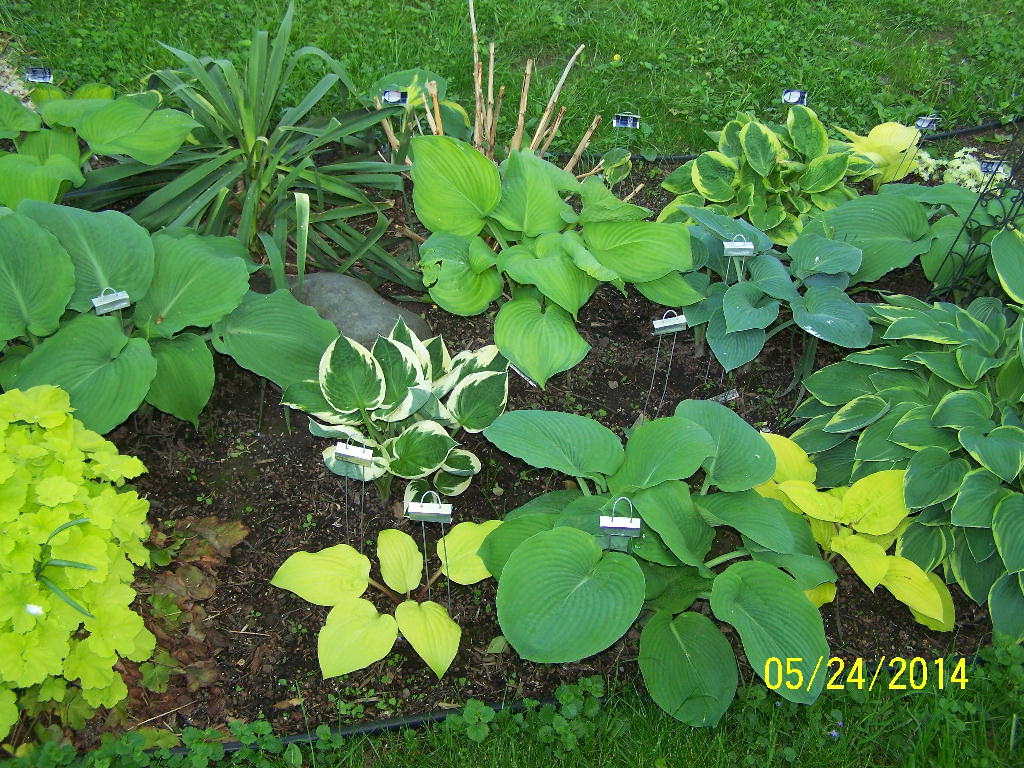 Under our large Black Cherry tree you will find the Hosta Haven. This area is home to over 20 named varieties of hosta as well as coral bells, yuccas, hydrangeas, and a Higasayama Japanese Maple (Acer palmatum 'Higasayama') standing tall. There is a white lilac growing next to the cherry tree with some Porcupine Grass (Miscanthus sinensis 'Strictus') and a young smokebush.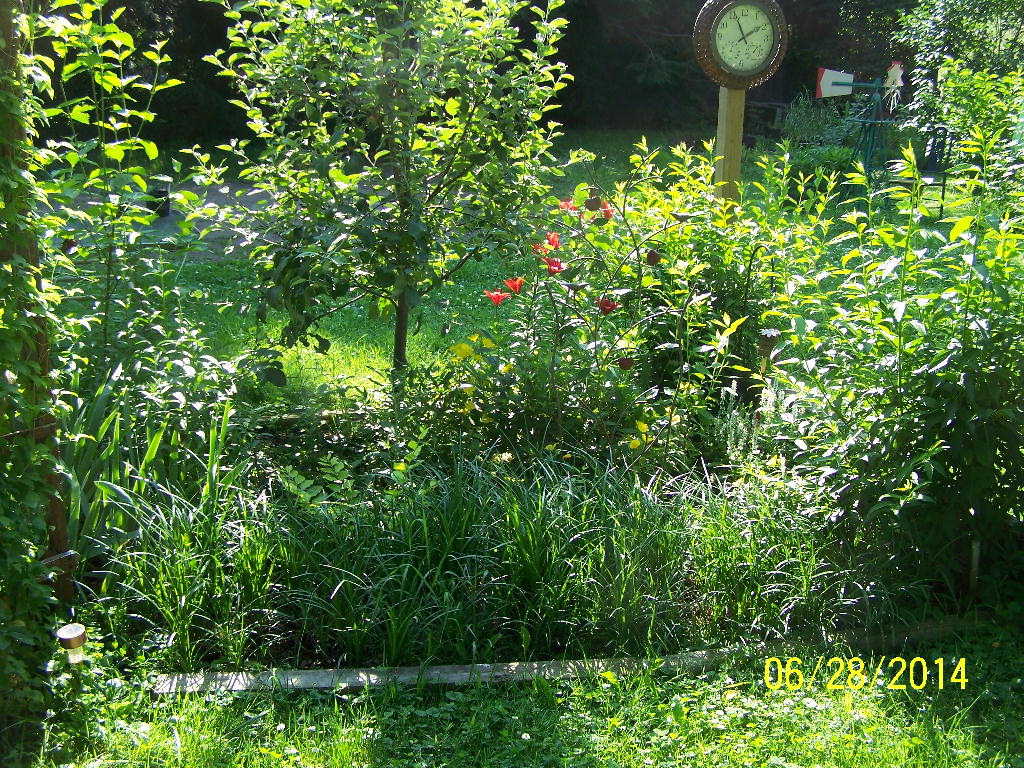 Across from the cherry tree is our pergola with Trumpet Honeysuckle (Lonicera sempervirens) growing up the posts. There are two beds next to the pergola. The north side has some butterfly bushes, irises, dogwoods, forsythia, summersweets, and a few others. The south side ties into what we call our slab bed, an old slab foundation that is fronted by this bed. Many plants and shrubs make their home here on the south side of the pergola. Purpleleaf Sandcherry (Prunus x cistena), viburnums, weigelas, butterfly bushes, tulips, daffodils, spireas, coneflowers, ornamental grasses, and many more. A flat stone walkway makes things accessible from the center. On the back side of the slab we grow gladiolas in the summer with some hydrangeas, dogwood, coneflowers, black-eyed susans, and ornamental grasses. Tulips, sundrops, irises and some daffodils pop up in the spring.
A long raised bed that runs near our property lines contains quite a few of our stock plants and shrubs. Butterfly bushes, spireas, weigelas, willows, hydrangeas, euonymus, junipers and arborvitaes all grow in this bed with several others. This bed frames our nursery area on two sides.
There are several other plants, trees and shrubs growing around our house and yard in random areas or small beds that someday may be part of a larger bed...?